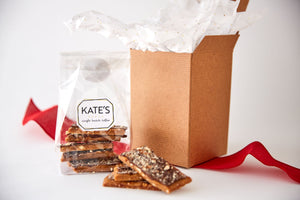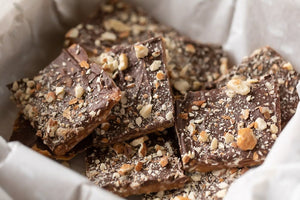 Kate's Toffee
For generations, my family has taken tradition to the kitchen, bonding over the celebration of shared recipes & transcended techniques. It is with much excitement that I share a recipe many years in the making, a timeless treat crafted to perfection.
Kate's Toffee is handmade and is the ideal gift to send to your loved ones. Try some today!
Meet Kate
Kate here — welcome to my page! I am so thrilled to officially introduce you to my small business, Kate's Single Batch Toffee. I've been making toffee treats as a treasured holiday tradition since I was 8 years old when my Mom first pulled a kitchen chair up to the stove and handed me my first wooden spoon. Over the past 25 years, I have learned a little bit from every batch I've created, perfecting the perfect secret recipe. It's always bring me so much joy seeing the excitement my friends and family show when I hand them a bag of my delicious toffee during the holidays. 
When we were unable to have our traditional large gatherings this past holiday season, I was determined to not let 2020 compromise "Toffee Season!" as well! I decided to ship my signature single batch toffee to loved ones far and near, and I was so touched by the phone calls, texts, and messages expressing their delight to have a taste of tradition in a non-traditional way. Their reactions were the highlight of an incredibly challenging year and made me think this was time to finally convert this passion into a real business.
If you are already a toffee lover, I can't wait for you to try my version — if you're new to the toffee world, welcome and prepare to be hooked! I hope you'll follow me on Facebook page and sign-up on my website to stay apprised of seasonal specials, promotions, and all things toffee.
Thank you for your patronage and for helping my small business grow!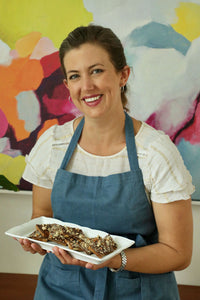 Enjoy Today!
Previously only offered during the Holiday Season - Kate's Toffee is now available year-round.